Werner Is Now Hiring Company Team Drivers In In The Mount Vernon, NY Area!
Overview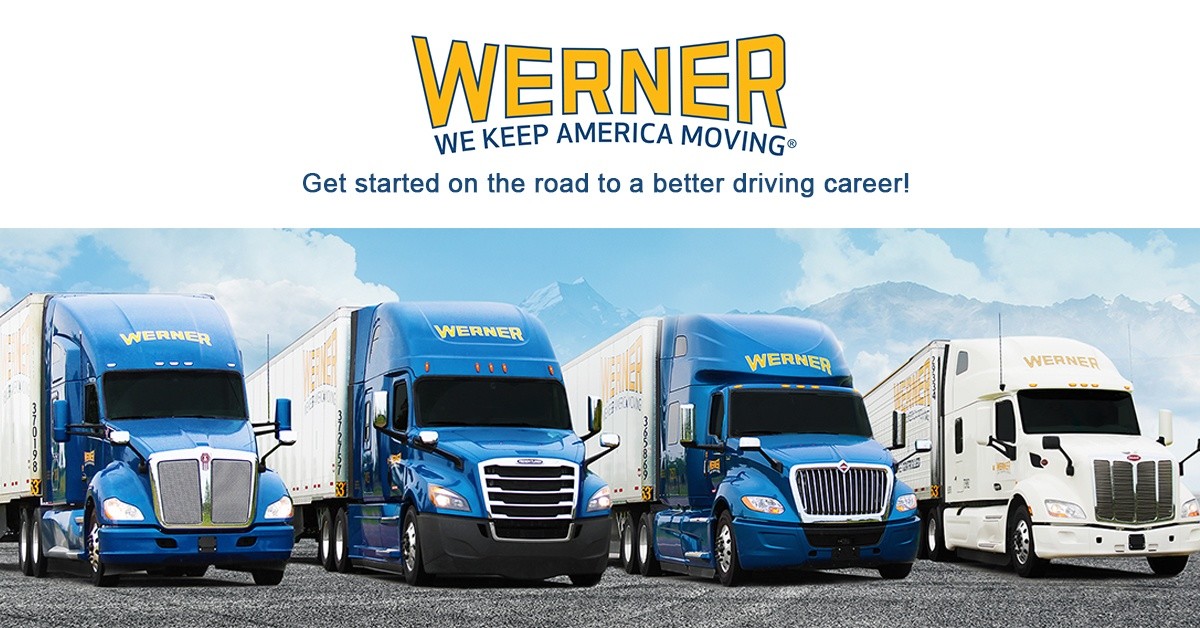 Werner is Now Hiring Company Team Drivers! CALL TODAY 855-888-6439!
Overview
Looking for full teams and solo drivers interested in team driving in the 48 continental states. Solo drivers can be matched with a teammate through the Werner Team Pair Up Department. Teams at Werner benefit from single source dispatch and load planners, priority on breakdowns and priority on truck assignments. Teams receive a higher length of haul, higher pre-assigned loads and a higher percentage of no touch freight.
Werner Enterprises realizes that Drivers have diverse needs, and that this diversity requires flexible support. Our goal is to offer a customizable package that can be tailored to the specific needs of each individual and their family.
Medical/Dental
Vision
Basic life insurance
Optional Benefits
401(k) Retirement Plan
Up to $5,000 Sign on Bonus (Split Teams)
Employee Assistance Program
Tuition Reimbursement
Military Apprenticeship Program
Stock Purchase Plan
Onsite Fitness Facilities
Onsite Recreation Facilities
Bereavement Leave
Sign On Bonuses Available on Select Accounts - Call for Details
Additional Benefits:
Paid orientation
Load monitoring
Truck/Diagnostic tracking
Load optimization
Drop and swap
Tuition Reimbursement up to $15,000 is available for those who qualify
Rider and Pet policy - year round optional rider and pet policy
Electronic Logging Device
Pay:
Werner Enterprises' dedication to offering drivers the best lifestyle means giving our drivers high pay combined with high production. Along with our pay scale, we offer bonuses such as fuel efficiency, monthly mileage, achievement, etc. allowing you to make the money you deserve. (If you are in the Long Haul services, Werner Enterprises offers a progressive pay increase for your first year, which is paid on all miles, loaded and empty.)
Werner Enterprises' production is 10% higher than our competitors, makes Werner Enterprises' drivers some of the highest paid in North America.
Paychecks -- When and How?
Werner Enterprises has made it easier, faster and less expensive for you to drop an envelope into a TRIPPAK EXPRESS drop box after every load. With this program in place, your money is available to you faster than ever before.
Every Thursday, you can have your check mailed to your address or direct deposited to your bank.
Opportunities
Thanks to our many divisions and diverse operations, our drivers may live in any area of the country they prefer. Everything is taken into consideration when matching a driver with a division, including mileage requirements, home time needs and route preferences. Proving that no matter where you live, you can take your career in any direction you want. Over 70% of our driving jobs are in more attractive, shorter-haul Regional and Dedicated fleet operations that enable us to return drivers home more frequently.
Regional Opportunities
150+ Dedicated Fleets
Training Opportunities
48 State & Southern Canada
Vans, Flat Beds and Temperature Controlled Divisions
Team Werner
Scheduled Lane Fleets
The Werner Enterprises Paperless Log System
This system replaces traditional paper logbooks. It's connected via satellite through QualcommTM and assists drivers in tracking their hours of service. No lines. No math, no paperwork. You can focus on driving.
General Qualifications
You must:
Have a valid CDL Class A (HAZMAT not required but encouraged)
Be at least 21 years old
Meet DOT requirements and pass a DOT physical, which includes substance screening
Have a safe driving record
Have good work history
Be able to fulfill the physical demands of the job
CALL TODAY 855-888-6439!

Why Drive Werner? Why Werner? There are many great advantages to driving with Werner Enterprises. Besides the comprehensive package of benefits (Health, Dental and Vision Insurance, 401(k) Retirement Plan, and Stock Purchase Plans) offered to Werner Drivers, there is the peace of mind knowing that you are working with a company that is well established and virtually debt free. In a time where financial uncertainty plagues many companies, Werner Drivers have confidence in knowing that they will be paid on time and are part of a team that values their needs. Werner Enterprises is a Driver Company. Werner Enterprises operates a fleet of more than 7,800 trucks and more than 24,000 trailers throughout the U.S., Mexico and Canada. This allows our drivers the flexibility of driving for a service suiting their lifestyles, with the added benefit of living in any area of the country they prefer. As a Werner Enterprises' driver, you receive personal attention and your fleet manager gets to know you by name. Werner Enterprises offers many opportunities for drivers, nationally and regionally within the various Van, Flatbed and Temperature Controlled services. CALL TODAY 855-888-6439
This truck driving job posted by the American Driver Network
Werner Enterprises
Werner
855-888-6439
Average is for Other People
Professional driver C. L. Werner founded Werner Enterprises with one truck in 1956. More than 60 years later, our company still remains committed to treating every driver with consideration, respect and appreciation. Managing with a driver in mind is one of Werner's earliest founding principles, and one of the key reasons why Werner Enterprises has become one of the largest truckload carriers in North America.
Werner Enterprises is known for:
MORE MONEY PER MILE! Werner recently invested over $30 million in driver pay increases!
MORE MILES PER HOUR! New 68 miles per hour cruising speeds to maximize safety and fuel efficiency!
MORE MILES PER WEEK! Industry-leading production!
Werner Enterprises's Hiring Area
AL

AR

AZ

CA

CO

CT

DE

GA

IA

IL

IN

KS

KY

LA

MA

MD

ME

MI

MO

MS

NC

NE

NH

NJ

NM

NV

NY

OH

OK

PA

RI

SC

TN

TX

UT

VA

VT

WI

WV

WY
Benefits
Health Insurance
Vision Insurance
Dental Insurance
Life Insurance
Retirement Plan
Paid Vacation
Paid Weekly
Layover Pay
Pickup/Drop Pay
Per Diem
Paid Fuel Surcharge
Direct Deposit
---